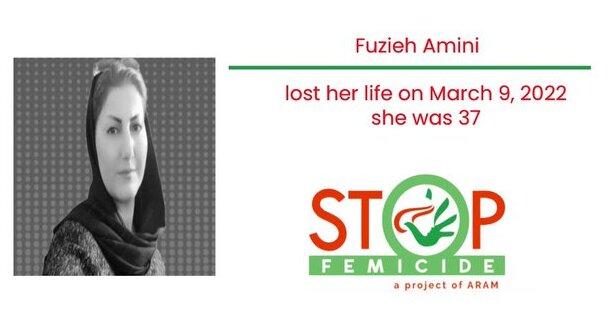 Fuzieh Amini
born: 1985
probably murdered: 9 March 2022
Residence: Saqez (Kordestan, Iran)
Origin: Kurdish
Children: 2 (14 and 4 years old)
Perpetrator: husband Mohammad Farjouzadeh
Excuse: –
Fuzieh Amini and Mohammad Farjouzadeh both work at Shafa Hospital and have two children aged 14 and 4. According to a report received by the human rights organization Hengao, Farjouzadeh called the emergency number and reported that his 37-year-old wife, had committed suicide.
He stated that she had hanged herself. "Before I left the house, my wife said she would commit suicide today," he told family members.
Her body was found by emergency workers in the house under suspicious circumstances, for example, according to a nurse, clear signs of inflicted physical violence were visible in her face and her hair had been partially cut off.
A relative of Amini reported to Hengao that the body has been transferred to a forensic doctor for an autopsy and that they are waiting for the results.
Another of Amini's colleagues at Khomeini Hospital told Hengao that it is quite possible that she was murdered, adding, "The chances of the test results being manipulated are high."
Sources in Saqqez reported that Amini had taken her two children to her father's house the night before the murder.
Police have not arrested Mohammad Farjouzadeh. We would welcome any leads.