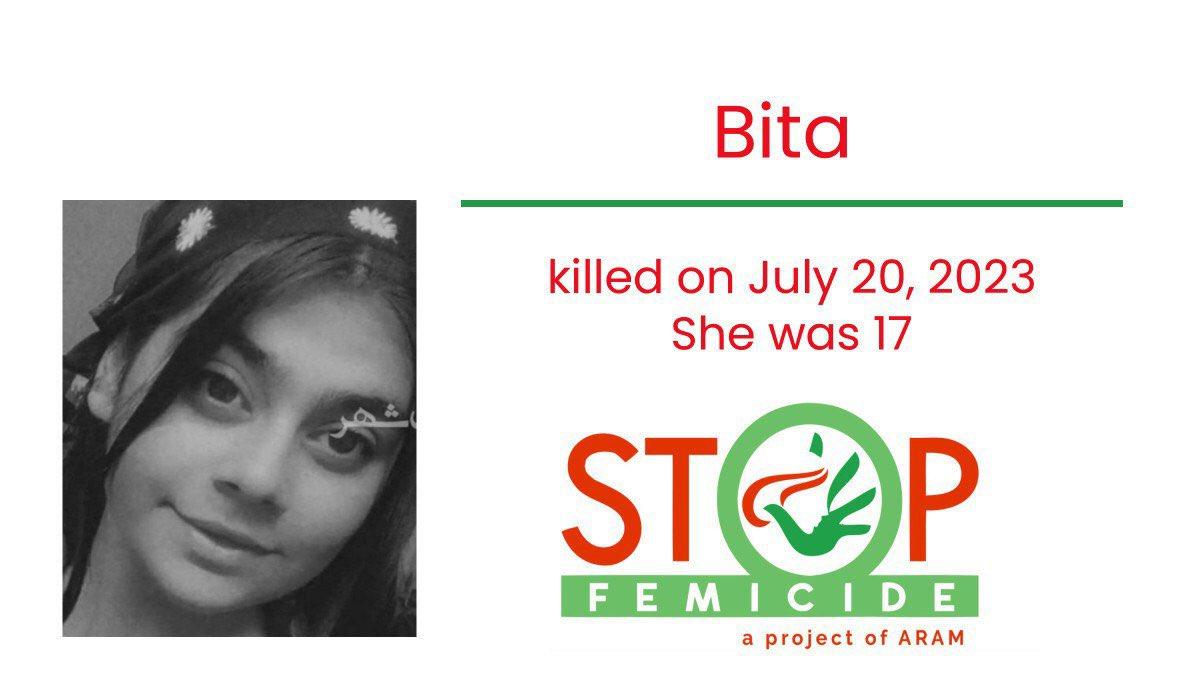 Teenager Murdered in Gilan Province
Bita
Age: 16
Stabbed to death: July 20, 2023
Residence: Rezvanshahr, Gilan
Origin: Iran
Children: none
Perpetrator: Fiancé
Excuse: Disputes about their future together
Bita was an only child. Her mother married at a young age but separated from her husband when Bita was born. After their divorce, Bita and her mother moved from Qarchak Varamin to Tehran to start a new life together.
During her visit to her maternal grandmother in Rezvanshahr, she met Amir. It's unclear whether they intended to marry. Although they had been communicating for some time, Bita recently expressed her desire to end the relationship, leading Amir to suspect there might be someone else involved, and that Bita was considering breaking up with him.
Bita was supposed to reunite with her father after 16 years. She had bought new clothes to make a memorable impression on him. She was waiting on the roadside to catch a ride. Her friends saw her get into a car with Amir, and some of them followed them.
Amir took Bita to Choka Township. There he fatally stabbed her before leaving the crime scene. He returned with a jerry-can of gasoline, setting her body on fire. One of Bita's friends captured the horrifying scene on video and sent it to Bita's mother, stating, "Come to Choka Township; Bita has been murdered."
The residents of Choka Township informed the police about a highly disturbing smell in the area. Upon investigation, the authorities were confronted with a gruesome crime scene. At first, they believed it was a charred doll, but Bita's mother recognized her daughter upon seeing a bracelet on the body.
Amir had intended to marry Bita, but upon realizing her lack of interest, he grew suspicious, leading to this heinous act.
Knowing that meeting Amir could endanger her life, Bita confided in one of her friends, warning them, "If you don't hear from me, know that something terrible has happened."
The incident has sparked outrage and concern, with many calling for an end to femicide and advocating for women's rights and freedom under the hashtag #زن_زندگى_آزادى (#WomanLifeFreedom) and #StopFemicide.